How the SRU Makes Your Life Easier in the Field
Display instant water level readings from a connected Solinst datalogger
Record and save an independent real-time logging session
Barometrically compensate real-time readings using internal barometer
Download and store data from the connected datalogger's internal memory
View the datalogger status, including battery life, memory remaining, firmware version and logging information
Transfer real-time and log files to a PC to view using Levelogger Software
View Compensated Real-time Water Level Data
With the SRU connected, you can select a real-time sampling rate and start a monitoring session independent of the datalogger's internal logging mode. Recorded data can be saved in the SRU memory. The SRU has a built-in barometer, which provides the option of showing and saving water level readings corrected for barometric pressure. Real-time logging and viewing of barometrically compensated level readings is convenient when performing aquifer tests, such as pumping tests.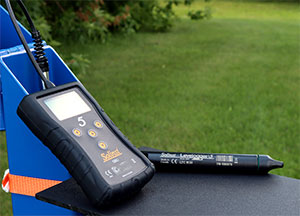 Download and save Multiple Datalogger Files
The SRU is also a data download and storage device that has enough memory to save 20 full LTC logs or 18 full LT logs (~1.8 million LTC readings or 2.7 million LT readings). Transfer files to a PC by connecting the SRU using a USB cable. Files are downloaded and opened using Solinst Levelogger Software.
Quickly Check Your Down-hole Datalogger Status
The SRU provides access to information about the connected datalogger's battery level, memory, serial number, firmware version, and logging mode. This is useful for quickly checking the status of a datalogger without removing it from the installation.
Convenient features of the SRU
Compact, rugged, and easy to use
Clear LCD Display
User-upgradeable firmware
Operates with one replaceable 9V battery
Robust memory for saving multiple log files
Compatible with Levelogger 5 and Edge Series Solinst dataloggers
Integrates with Solinst Levelogger Software
Direct connect to Model 3001 Levelogger (via Direct Read Cables or Optical Adapter) and Wellheads (Model 3250 LevelVent or Model 3500 AquaVent)
| | |
| --- | --- |
| Materials: | ABS enclosure, 316 stainless steel connector, silicone rubber cover |
| Operating Temperature: | -20ºC to +50ºC |
| IP Rating: | IP64 (dust and splash resistant) |
| Battery: | Standard 9V replaceable battery |
| Battery Life: | Up to 2 years |
| Memory: | 21 full LTC logs or 19 full LT logs (~1.8 million LTC readings or 2.7 million LT readings) |
| Size and Weight: | 8.9 cm x 3.2 cm x 14.5 cm (3.5″ x 1.3″ x 5.7″) 351 grams ( 12.4 ounces) |
| Internal Barometer Accuracy: | ± 0.2 kPa |
| Compatible With: | 5 Series and Edge Series Solinst dataloggers |