You are here
Solinst Levelogger 5
NEW Levelogger 5 — the 5th generation Levelogger brings over 20 years of engineering and design experience with it. Everything about the new Levelogger 5 design focuses on providing high-quality water level data our customers can rely on, with all of the accuracy and ease of use expected from Solinst.
The Levelogger 5 is a self contained water level datalogger, using infra-red data transfer powered by a 10 year lithium battery, offering the flexibility of installing by use of a Direct Read Cable, wireline or Kevlar cord. The Levelogger 5 has a memory capacity of 150,000 temperature and water level data points.
Levelogger Software Version 4.5, written to support the Levelogger 5, Levelogger 5 Junior, Levelogger 5 LTC, Rainlogger 5, and is backwards compatible to support the Levelogger Edge series. Version 4.5 offers many features, including the ability to barometrically compensate multiple Levelogger data files simultaneously.
The Levelogger 5 measures absolute pressure using a Hastelloy® pressure sensor, offering high resolution and an accuracy of 0.05% FS. Readings are stable in extreme pressure and temperature conditions. The Hastelloy sensor can withstand 2 times over-pressure without permanent damage. Combined with the durable coating inside and out, the Levelogger 5 has high corrosion and abrasion resistance in harsh environments.
Upgraded Features
Increased stability for communication: single-eye optical interface—easier to clean, more scratch resistant
Increased memory: 150,000 sets of data
Stronger, more robust design: double o-ring seals for increased leakage protection
Better thermistor sensitivity: upgraded platinum RTD
Superior protection in harsh environments: corrosion and abrasion resistant coating—inside and out
Enhanced Levelogger Software: improved Diagnostic Utility for more proactive user "self-tests"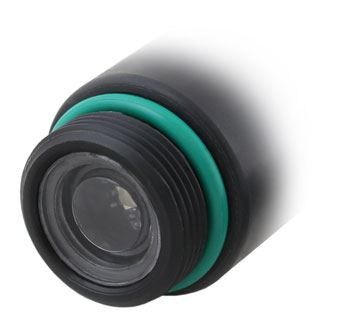 Single-eye optical interface
The Levelogger 5 features a smooth, single-eye optical interface, which allows for easy cleaning and more reliable, faster communication. Using a Solinst USB device, including the new Field Reader 5, and Levelogger PC Software, programming and data downloading speeds are 57,600 bps.